What is it?
The SustainFARM Public Goods Tool is a sustainability assessment for farms that combine food and non-food production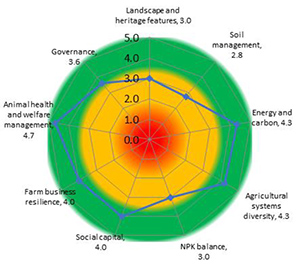 Radar diagram showing results of SustainFARM PG Tool
The Tool helps farmers assess the sustainability of their farming system within a 12-month period. It can also be used as a decision support tool for farmers and land managers, to help them to identify the possible impacts of changing their system on performance across the full range of sustainability indicators.
More background on the development of the tool can be found below.
The assessment takes a broad approach, using information that a farmer would have in their farm records already. It takes between 30 minutes and an hour to complete, depending on the complexity of the farm. It assesses a farm on a number of areas (spurs) which may be impacted by agricultural management practices and are related to public goods such as water quality, air quality, etc.
These 'spurs' are:
Soil management
Landscape and heritage
NPK balance
Energy and carbon
Food security
Agricultural systems diversity
Social capital
Farm business resilience
Animal health and welfare management
Governance
Each spur is assessed by asking questions based on a number of key "activities". Answers are scored on a scale between 1 (poor) and 5 (excellent) and an overall score given for each spur. Results are captured on a radar diagram to give an instant visual overview of the sustainability of the farm.
Farmers can also use the tool to investigate the effects of changing or introducing new practices or management to the farm on the sustainability indicators.
Who is it for?
The Tool can be used on farms in Europe of all sizes that produce both food (crops, livestock, vegetables, fruit, olives) and non-food (timber and woodfuel) products.
The Tool can be used by farmers, land managers, advisors and anyone else with an interest in the sustainability of a particular farm and access to information on the inputs and outputs from the farm (e.g. yields, fuel use and management).
How to use the tool
Download the SustainFARM Public Goods Tool here. This is an excel workbook of less than 1 MB.
Download the Instruction Manual here. This pdf document guides you through the assessment step by step.
Compare your results with case studies of similar farms across Europe
The background
Farmers and local communities can be helped to secure a positive future by ensuring that farms are sustainable. One way to increase sustainability is by combining food and non-food production into a single farming system. In this way, different products can complement each other, and a greater return could potentially be obtained from the land.
In order to optimise these farms in their agronomic, environmental and economic performance, it is necessary to ensure that the system is sustainable. This can be assessed based on performance across four 'domains' identified by the FAO (2013):
environmental integrity (EI),
social wellbeing (SW),
economic resilience (ER) and
good governance (GG)
All interact and all need to be sustainable in order to enable consistent performance in any of the others. Most existing tools for assessing the sustainability of biomass production systems, however, are built with a focus on the sustainability of agricultural products (crops, meat, dairy), or occasionally forestry/other non-food products, but generally in isolation rather than in combined systems. The SustainFARM Public Goods Tool has been developed to help farmers assess the sustainability of their whole farming system. The SustainFARM PG Tool has been developed from an existing tool, the Public Goods Tool, which was created by staff at the Organic Research Centre (Gerrard, C.L., Smith, L.G., Padel, S., Pearce, B., Hitchings, R., Measures, M., Cooper, N., (2011)).
Reference:
Organic Research Centre (2019) The SustainFARM Public Goods Tool v1.0.
The SustainFARM Public Goods Tool is licensed under the Creative Commons Attribution-NonCommercial-NoDerivatives 4.0 International License (CC BY-NC-ND 4.0). To view a copy of this license visit https://creativecommons.org/licenses/by-nc-nd/4.0/